VMap1 data in shape-format
Downloads for VMap1 in shape format.
VMap1 data is related to VMap0 dataset. VMap1 is created based on Joint Operation Graphics (JOG) maps of 1:250'000 scale, which by the level of detail is roughly coincide with 1:500'000 scale topographic maps of Soviet topographic series.
Source VMap1 data is distributed in VPF format for the part of the globe and freely downloadable via National Geospatial-Intelligence Agency. Other tiles were not distributed freely when this article was written.
This page provids access to this data in ESRI shape format.
Available tiles scheme
Data is distributed by tiles, the tiles scheme is presented below (download tiles scheme itself, в shape формате):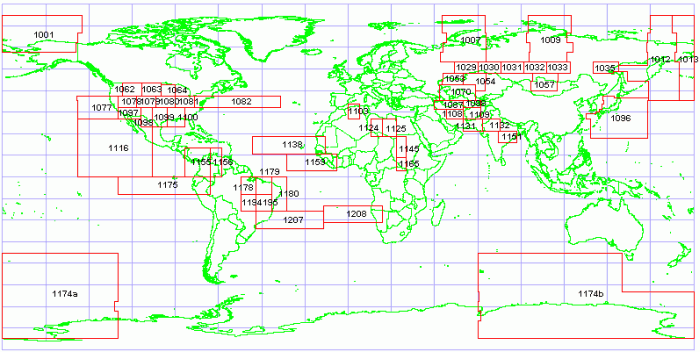 About data
Data is imported from VPF format, each layer has associated legend file in avl format (usable with Arcview GIS and importable in ArcGIS). Coordinate system fikes (prj) for the layers can be downloaded separately. Data for Russia is the copy of world tiles that intersect Russia's border with coordinate system changed from WGS84 to Pulkovo 1942 using 3 parameters daturm transformation used by NIMA.
Download data
Обсудить в форуме Комментариев — 0
See also
Последнее обновление: September 09 2021